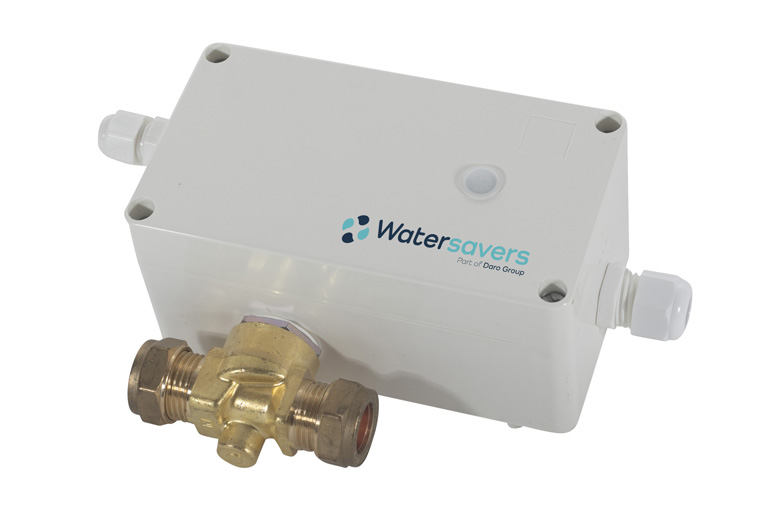 Timed Urinal Flushing Control with Remote PIR Sensor
230v AC mains operated 15mm timed urinal flushing control with remote PIR sensor – the complete 'fit & forget' solution for concealed cisterns such as those fitted behind panels.
Watersavers offers a range of sensor options to suit different locations and includes a comprehensive fitting kit. The Autosave M02 urinal flushing control saves water by flushing urinals only after use. A remote infrared PIR sensor detects individuals in the washroom area and initiates a cistern fill and flush cycle at a preset time following detection.
A simple pushbutton setup procedure sets the cistern fill time. A programmable switch enables the installer to choose the flushing frequency and to set a hygiene flush interval for periods when the building is unoccupied.
Specification
Detection: Remote PIR sensor – see below for details
Solenoid Valve: Brass normally closed, 15 mm compression fittings, 2.4 mm orifice, pressure range 0 – 12 Bar with mesh filter (optional low-pressure valve for tank fed installations)
Alternative Valve Specifications: Please contact us sales@watersavers.co.uk or call 01603 720999
Cistern Fill Time: 1 to 34 minutes – set by simple pushbutton routine
Flush Program Options: Flush delay (time from detection to actual flush) 5 – 35 minutes in 5-minute increments, hygiene flush 12 or 24 hour
Test Function: Magi-test device, provides instant full functional test including valve, infrared PIR sensor operation, battery status, water supply and cistern fill time
Power: 230v ac 50Hz 10VA maximum
Enclosure: Size 135 x 75 x 75mm (exc. valve) in white RAL 9010
Approvals: All Autosave products are WRAS approved and are featured on the Government's ECA Technology List
PRODUCT CODE: Autosave M02-SG or Autosave MG02-SG-LP
Remote Sensor
For use with Watersavers' Autosave M02 timed urinal flushing control.  The remote sensor features a high sensitivity PIR detector with a range of 5 metres and an angle of > 100°.  Supplied with 5m length of 3 core cable.  Please contact us if you have any special requirements.
Single gang sensor high sensitivity 5m 100° range
Standard 85 x 85mm plate
Depth behind plate 15mm
Suitable for surface or flush mounting
Detection LED
White finish
Features
6 – 12-month typical payback period
Save up to 80% on metered water bills
Guaranteed for three years
ECA listed
WRAS approved valve
With SG single gang remote PIR sensor
Simple one button setup procedure
Programmable flush delay and 12 or 24hr hygiene flush
Magi-test operational check
Suitable for left-hand or right-hand water inlet
Mains powered – fit & forget solution
Fail-safe valve – closes if power is removed or fails
No need to reset after power outage
Manufactured in the UK
Optional Extra
Magi-Test Wand – Telescopic test wand for use with autosave controls.