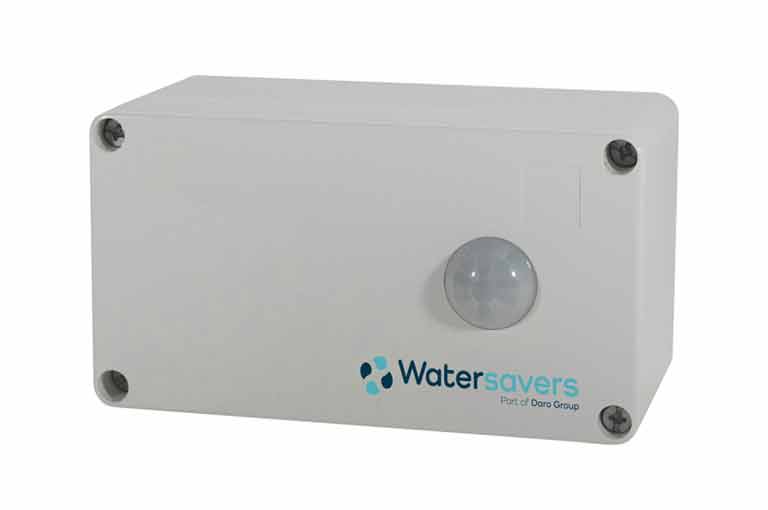 Timed Urinal Flushing Control with integral PIR Sensor and Remote Solenoid Valve
Autosave B02 timed urinal flushing control with integral PIR sensor and remote solenoid valve for concealed cisterns such as those fitted behind panels and where the cistern is situated at a distance from the urinal.
What does it do? The Autosave B02 urinal flushing control, 6v DC (battery operated), is ideal for installations where a 230v AC supply is not readily available. The Autosave B02 urinal flushing control saves water by flushing urinals only after use. A built-in passive infrared PIR sensor detects individuals in the washroom area and initiates a cistern fill and flush cycle at a preset time after detection. A pre-wired remote solenoid valve allows for flexible installation.
Urinal flush valve timer
A simple push button setup procedure sets the cistern fill time, and a programmable switch enables the installer to choose the flushing frequency and to set a 12 or 24-hour hygiene flush interval for periods when the building is unoccupied, such as at weekends or during holiday periods.
Due to its ease of installation, the Autosave B02 urinal flushing control is one of our most popular automatic flush controls and is used extensively by local Councils and washroom hygiene companies throughout the UK. A three-year average battery life (batteries provided) and quick payback, makes this urinal flush valve timer a popular choice.
Specification
Detection: Built-in passive infrared sensor, range approximately 4 m, coverage 100° from perpendicular
Solenoid Valve: Brass latching, 15 mm compression fittings, 2 mm orifice, pressure range 0 – 12 Bar with mesh filter (optional low-pressure valve for tank fed installations) 
Alternative Valve Specifications: Please contact us sales@watersavers.co.uk or call 01603 720999
Batteries: 4x Duracell AA cells (supplied) – average life 3-years. No need to reset when changing batteries
Low Battery Warning: Led flashes to indicate low battery status. Valve closes (fail safe) two weeks following initial warning
Cistern Fill Time: 1 to 34 minutes – set by simple pushbutton routine
Flush Program Options: Flush delay (time from detection to actual flush) 5 – 35 minutes in 5-minute increments, hygiene flush 12 or 24 hour
Test Function: Magi-test device, provides instant full functional test including valve, infrared PIR sensor operation, battery status, water supply and cistern fill time
Enclosure: Size 135 x 75 x 75 mm (exc. valve) in white RAL 9010
Approvals: All autosave products are WRAS approved and are featured on the Government's ECA Technology List
PRODUCT CODE: Autosave-B02
PRODUCT CODE: Autosave-B02-LP (optional low-pressure valve)
Features
6 – 12-month typical payback period
Save up to 80% on metered water bills
Guaranteed for three years
ECA listed
WRAS approved valve
Remote solenoid valve, complete with cable and DIN connector
Simple one button setup procedure
Programmable flush delay and 12 or 24hr hygiene flush
Magi-Test wand provides functional check
Suitable for left-hand or right-hand water inlet
Fitting kit includes four alkaline batteries, isolating valve, fixing screws and installation instructions
Manufactured in the UK
Optional Extra
Magi-Test Wand – Telescopic test wand for use with the autosave controls.